Bodytite is a revolutionary procedure that has changed the game for cosmetic surgery. It is a minimally invasive procedure that involves using radiofrequency energy to
Read More »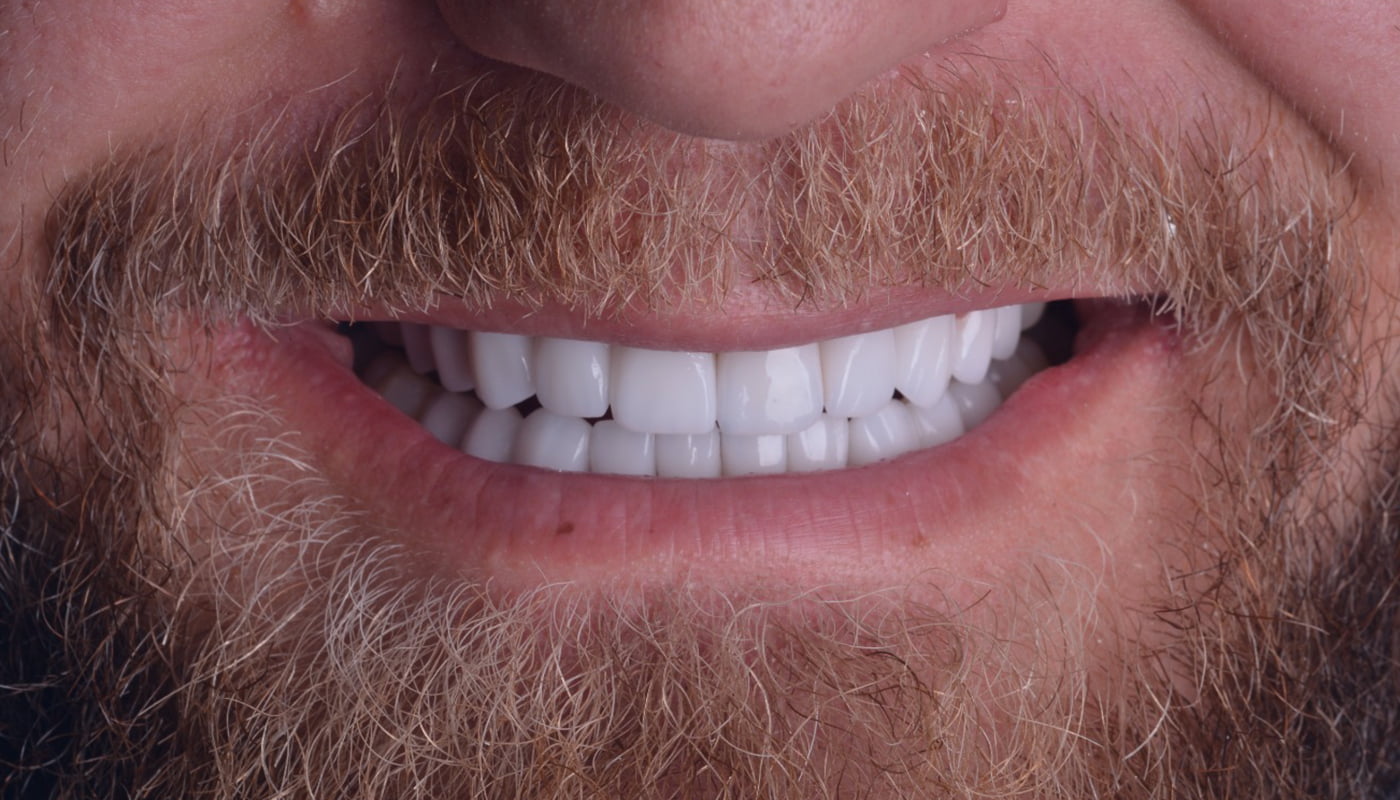 The Hollywood Smile You've Always Dreamed Of Is Just a Short Trip Away
The road to shiny, white, perfectly aligned teeth starts with Medic Tours. The much sought-after
Hollywood Smile is the Holy Grail of cosmetic dentistry. But it comes at a price.
Achieving the Hollywood Smile usually involves more than one procedure. In fact, every patient
is fully assessed to create a fully bespoke treatment plan that works for them.
The dental services we can arrange will tackle everything from misaligned teeth and discolored
teeth to missing teeth. No matter how your teeth look right now, the Hollywood Smile of your
dreams is only a flight away.
What Is the Famous Hollywood Smile?
The Hollywood Smile is a term used to describe the perfect set of teeth. It's the smile that all the
world's biggest movie stars flash regularly in their blockbuster movies.
In the real world, the Hollywood Smile means a set of bright white, perfectly aligned teeth.
Cosmetic dental services are tailored to the needs of the individual, but they might include:
● Laminate veneers
● Crowns
● Dental bleaching
● Implants
In fact, some patients may require all four services to achieve their Hollywood Smile. This
means that a trip abroad for treatment at one of our trusted and licensed dental clinics can last
anything between two days and a week.
Why People Seek the Hollywood Smile
The cosmetic dentistry required to achieve the Hollywood Smile is not essential. But when
people suffer the mental anguish caused by crooked, missing, and discolored teeth, treatment
can deliver life-changing results.
A displeasing set of teeth can cause patients a range of issues, including:
● A lack of self-esteem
● A lack of confidence
● Depression
● Anxiety
Any one of these issues has the potential to interfere with a person's career and relationships.
That's why so many people turn to Medic Tours for affordable overseas dental services.
What You Need to Know About the Hollywood Smile
When you combine luxury travel with private cosmetic dentistry, you can achieve the Hollywood
Smile you've always dreamed of at a price you can afford. But before you make a decision,
there are a few things you should know:
● Most patients can achieve a Hollywood Smile with a single treatment session
● You may have to attend several sessions if the work required is extensive
● A customized dental treatment plan will be created just for you
● Your Hollywood Smile will only last as long as the individual treatments last
If you look after your dental implants, veneers, or crowns, your Hollywood Smile may last up to
20 years. However, if your teeth require whitening, you may need to attend regular treatment
sessions.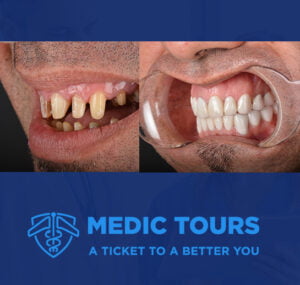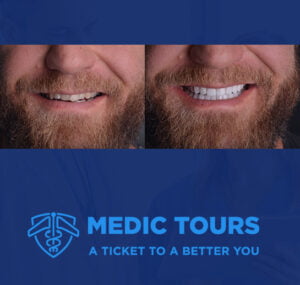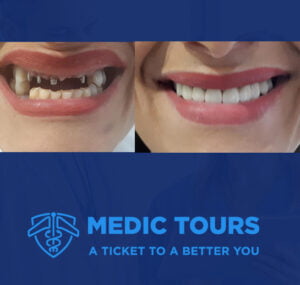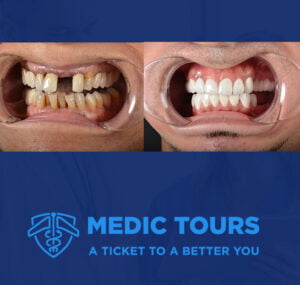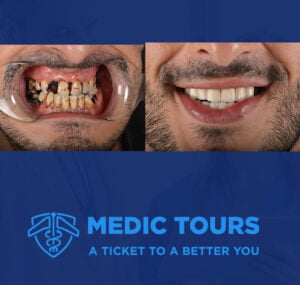 Lasting results generally depend on each person's lifestyle and eating habits, but typically speaking you should see results last 6 months to a year.
The Hollywood smile should improve your self-confidence, which can have a positive impact on the social and professional aspects of your life. It is not just about pretty smiles though. New techniques and materials are available for back teeth as well as those seen when you smile. Now your mouth can look great, get healthy, and function better, all at the same time.
We recommend 15-30 minutes depending on sensitivity level. Start with 15 minutes and if comfortable, you may go all the way to 30 minutes. Use once a day until you reach desired results, and once a month as maintenance. Do not exceed 14 consecutive days without consulting dental professional.
There are price differences between a single implant and all implants. Therefore, you will be examined by our specialist dentists, and then the price will be determined according to your treatment plan
We pay attention to all the hygiene rules published by the ministry of health of the same country. You can come to our clinics with inner peace.